Refueling Auxiliary Bridge
The Master-Lee Engineered Products Auxiliary Refueling Bridge is the logical and practical solution to expedite your nuclear refueling process.
Designed for personnel to manipulate Underwater Lighting and Refueling Shoehorns, our bridge will eliminate crucial downtime when used in tandem with the manipulator crane. Additionally, MLEP's Auxiliary Refueling Bridge has routinely been used for supporting a variety of reactor/refueling cavity projects, such as FME retrieval (FOSAR), cavity decontamination, and vessel inspections.
Built to accommodate the industry's dynamic work environment, MLEP's Auxiliary Refueling Bridge is engineered to your specific criteria (height, rail-to-rail length, number of sections, etc.), load limit, and seismic response spectra (if applicable).
Some of the key design features of Master-Lee's bridge: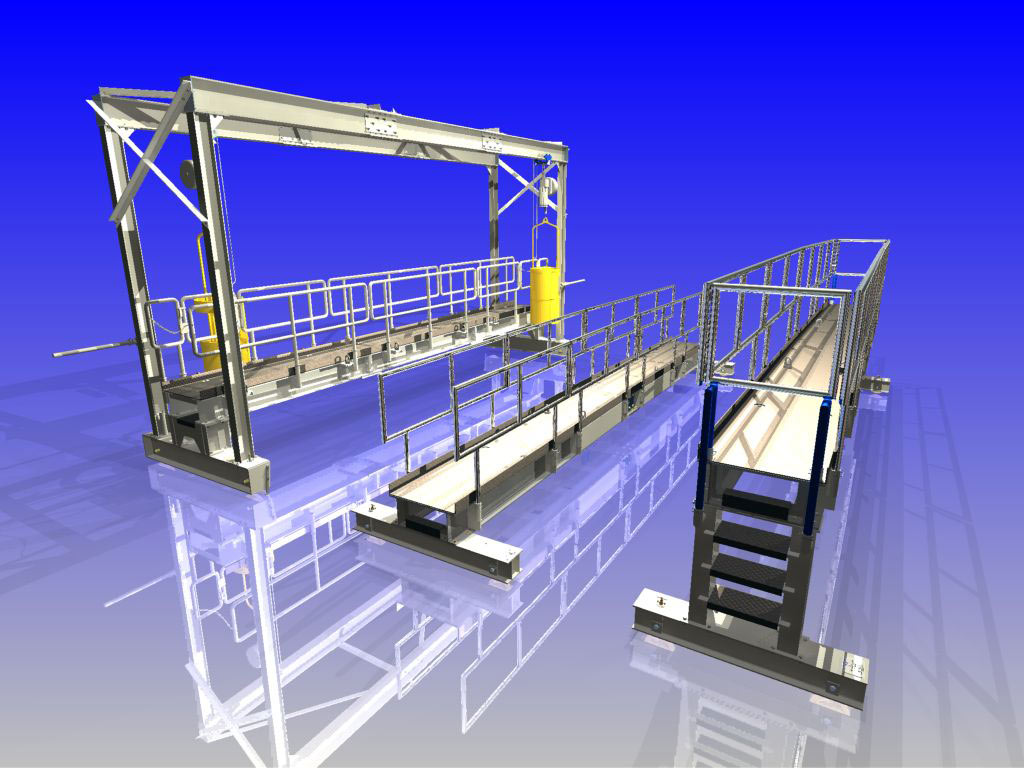 Aluminum, 2-Piece construction
4″ high toe kick-plates
Slip-Resistant decking
OSHA Handrails (removable)
36″ wide walkway (standard)
Requires less than 15 lbs. of force to move
NO CRABBING or BINDING
Assembly time at less than 2 hours
Stress analysis and load testing performed
---
Seismic analysis
3-Piece construction
Super-Structure
Storage containers
Carbon steel construction
Swingates
Let us design a bridge for your next outage. Please call and discuss the design options with our engineers.