Facility & Equipment Cleaning
For heavy duty industrial cleaning that takes facility infrastructure, equipment, heat exchangers, and more into account, choose Master-Lee Energy Services Corp. 
With experience that ranges from petrochemical facilities to nuclear power plants, Master-Lee Energy Services has the trained teams, experience, and specialized equipment necessary to keep your facility in optimal working condition. 
At Master-Lee, our goals include meeting safety standards, providing damage free cleaning for sensitive and fragile parts, and exceeding both your expectations and your prior experiences with industrial cleaning. 
Cleaning Technologies
Master-Lee Energy Services provides comprehensive industrial cleaning and maintenance services. 
CO2 Blasting services are the preferred method for cleaning delicate equipment, including electrical applications such as motors, generators, control panels, transformers, welding and robotic equipment, switchgear, relays, wiring runs, and more. It is also FDA, USDA and EPA approved for food and beverage processing facilities.
Water Blasting is perfect for removing surface grime, chemical contamination, surface particulate, and rust/scale deposits. Condenser tube cleaning and heat exchanger maintenance are also candidates for Water Blasting. 
Grit and Sponge Blasting is used for heavy rust removal, turbine rotor and blade cleaning, and more.  It can also be used for fine surface finishing, polishing, and detailing. Sponge Blasting technology is a dry, low-dust process requiring minimal containment. It can reduce your project's downtime while offering a wide range of surface profiling.  
This is the 1st item
This is the 2nd item
Cleaning Efficiency
Master-Lee Energy Services deploys efficient technologies and highly trained crews to minimize downtime. In many cases, years of buildup can be cleaned in place on industrial and assembly line equipment, machinery and machine tools, hydraulic and electrical power systems, control and distribution components, electronics, heat exchangers, and more.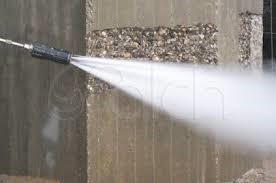 Work with Master-Lee Energy Services
Master-Lee Energy Services has been providing industry leading industrial, engineering, and nuclear services since 1987. To learn more about how Master-Lee can benefit your operation, call us at 1-800-662-4493 to speak with a Sales or Technical representative, or fill out our contact form today.